Taureans are strong, responsible, persistent, driven, and loyal. However, they can also be quite stubborn, materialistic, greedy, and possessive, but channeled properly, those qualities can also be what makes them so successful at times.
Taurus tattoos are a great way to celebrate all of the qualities associated with this powerhouse of a zodiac sign! Whether you're the stubborn bull or the loyal bull, we've rounded up some Taurus tattoo ideas you're sure to love!
1. Tribal Taurus Tattoo
A simple black tribal Taurus tattoo is bold and strong, perfect for bulls looking for simple yet eye-catching tattoo!
2. Cute Taurus Tattoo Ideas
Taurus tattoos don't always have to be bold and masculine. If you're looking for something a little cuter, here are a couple of cartoonish Taurus tattoo ideas. They would be perfect for fun and sassy female Taureans!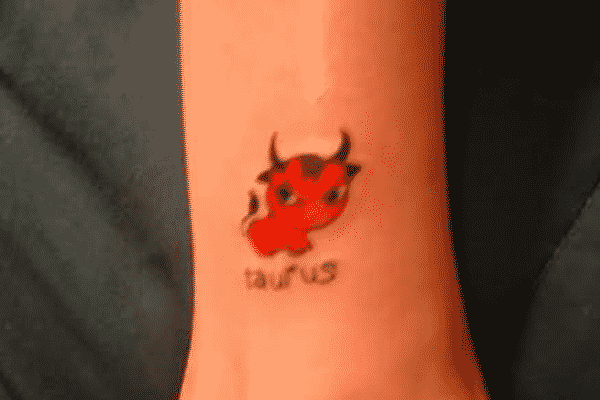 3. Pretty Taurus Tattoo With Flowers
The Taurus symbol is prettied up a bit in this tattoo, with more decorative lines and roses.
4. Taurus Constellation Tattoo
Not all Taurus tattoo ideas have to be bull or Taurus symbol tattoos. This Taurus constellation tattoo is the perfect example of this. Instead of being an obvious ode to the bu, it uses the starry night sky and the Taurus constellation to depict this earth sign.
5. Paint Splattered Artistic Taurus Tattoo
Taureans can be very creative types. If this describe you, then this paint splattered Taurus symbol tattoo might be a perfect fit for you, as it has a very artistic feel to it!
6. Taurus With Steam
Taureans are often large and in charge, just like the bull in this tattoo! There's no mistaking the symbolism in this tattoo either, since the steam coming out of this bull's nose spells "Taurus".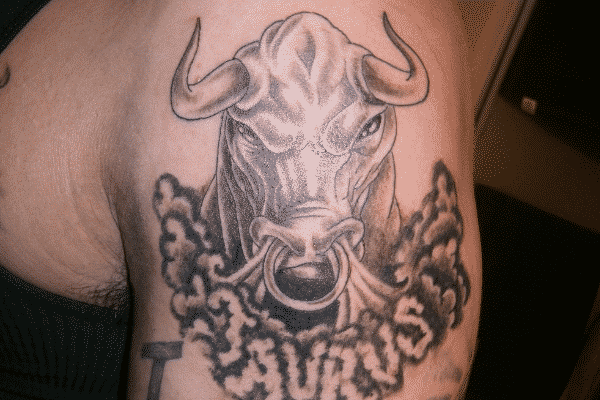 7. Taurus Tattoo on the Ribs
There are several Taurus tattoo ideas out there, but this is one of the most striking. It's a large bull tattoo placed on the ribs. It would definitely be a good fit for those Taureans who are large and in charge!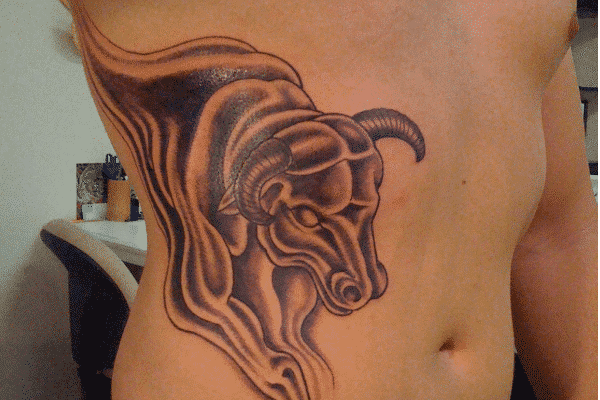 8. Small Taurus Wrist Tattoo
Taurus wrist tattoos are good choices for Taureans looking for small Taurus tattoo ideas. The Taurus wrist tattoo pictured below also has a band tattooed all around the wrist.
9. Red Raging Bull Tattoo
Have you ever seen a Taurean not getting his way? The red raging bull Taurus tattoo below is a pretty good likeness!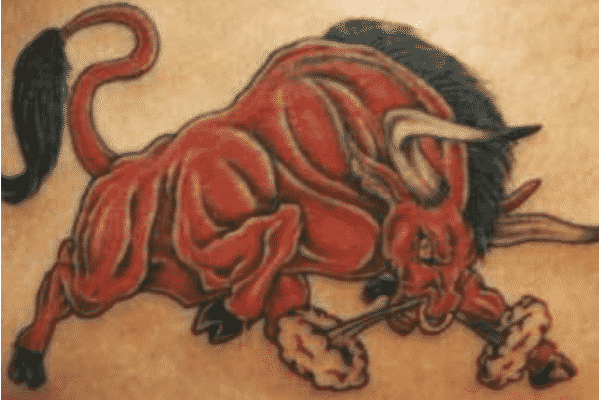 10. Tree and Taurus Tattoo
This Taurus tattoo also incorporates a tree and an Aries zodiac symbol. I'm sure it could also be made without the Aries symbol or with a different zodiac symbol.