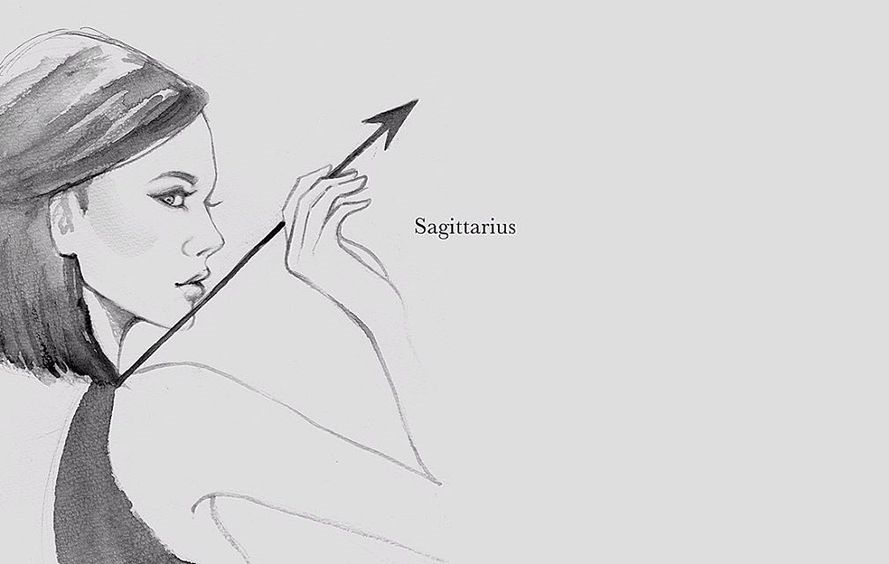 Gather with your tribe, Archer. The Sun is in Libra and your eleventh house of group activity until October 23, the perfect three weeks to network, entertain and collaborate.
Although you're an independent sign by nature, you need people—and now is the time to put a few key players in place to support your mission.
Next month, your ruling planet, expansive Jupiter, will move into your sign for the first time since 2006. From November 8, 2018, until December 2, 2019, the red-spotted planet will put your personal goals on the fast track.
Trying to do it all yourself will be a recipe for disaster, so start taking applications for Team Sagittarius now. The October 8 Libra new moon could bring an exciting alliance or a chance to join forces for a world-bettering cause.
But screen those applicants with the utmost care. From October 5 to November 16, harmonizer Venus will be retrograde, a challenging cycle that happens every 18 months, disrupting dynamics and fracturing relationships.
When Venus, the cosmic Grande Dame of Lovingkindness, sets up her autoresponder, our pings and pleas for compassion could fall on deaf ears. We may all need to dip into our reserve tanks to find manners, grace and empathy during this six-week backspin.
Since retrogrades bring back the past, an ex could resurface—for better or worse (or both). If you've swept any conflict under the rug, Venus retrograde may force you to deal with it. But careful: Diplomacy and tact are also in short supply now.
Venus will split this retrograde cycle between two zodiac signs: Scorpio and Libra. From October 5 to 31, Venus will back through Scorpio and your twelfth house of hidden agendas, closure and healing.
You might uncover some shady business or need to figure out what's real and what's an illusion. A person you thought was trustworthy could reveal themselves to be anything but.
Sagittarius, you may be known for your brutal honesty, but that doesn't mean you're above-board about everything. A round of (uncomfortable) true confessions might be the only way to heal a rift with a friend or loved one.
This is also a powerful time to practice forgiveness. If you're holding onto resentment or a grudge, it might be eating away at you. In fact, it could take a toll on your health if you don't release it for once and for all.
Research shows that resentment and bitterness are toxic, causing our systems to release more cortisol, the "fight-or-flight" hormone, and suppress the production of oxytocin, the "bonding hormone." Do yourself a favor and find a way to let this struggle go!
From October 31 to November 16, Venus will backtrack through Libra and your eleventh house of groups and friendship. This could spark discontent in your inner circle, but it could also bring an opportunity to mend fences. The eleventh house rules technology, and with the planet of charm and beauty gone awry, minimize your social media time.
Posting caustic comments to a feed or hastily adding selfies? Please don't. Unless your look is truly #onfleek or you can be sure you won't offend and alienate anyone, better to hold off.
In fact, you're due for an even longer rest period starting October 23, when the Sun plunks down into Scorpio and your twelfth house of closure, healing and release.
This is your annual "sleepy season," a monthlong time to recharge your batteries and shed a few emotional layers in preparation for your birthday—and Sagittarius season, which begins November 22. Focus on tying up loose ends now rather than starting any huge undertakings.
Wellness check! The October 24 Taurus full moon illuminates your sixth house of health, fitness and organization. Before you tuck yourself into bed completely, the celestial spotlight beams onto your practices and habits.
Are you being as efficient as you could be? Delegating instead of trying to DIY everything? This full moon will be in close conjunction to shock jock Uranus, which could bring a heap of stress or major shifts all at once. You might decide to make a radical change to your diet, exercise or work routines.
Some Sagittarians might suddenly decide to adopt a pet, or you could take on a volunteer project for the holidays. Just be careful not to bite off more than you—or the new furry friend—can chew.
The sixth house rules helpful people and employees. This full moon can bring a changing of the guard on Team Sagittarius, or you might decide to suddenly hire or fire.
Since Uranus rules technology, you could start working with a virtual assistant or consultant. Incorporate "smart" solutions into your wellness strategy, perhaps with a fitness tracker or an app that monitors your sleep cycles.
Halloween could bring out your feisty side. With the moon in Leo and your adventurous, expansive ninth house, you'll be the life of the party.
Pace yourself, though—at the spiked punch bowl and elsewhere. The moon will form a tense square to the Sun in Scorpio and your hypersensitive twelfth house.
You could be an emotional sponge or run out of steam sooner than you think…a true dilemma if you happen to be hosting the costume party of the century in your living room.
With retrograde Venus and volatile Uranus in a stressful opposition, you could hit a breaking point if you get too frustrated. So head out for some spontaneous fun, but don't box yourself into anything. When you've gotta go, you've gotta go!
/Based On Materials From TheAstroTwins