Step onto the cosmic red carpet on Monday, September 24, when the year's only Aries full moon powers up your fifth house of passion, fame and star quality.
You'll be oozing charisma and animal magnetism, and the only question is: What do you want to do with it? Full moons bring things to completion, and in the two weeks following this lunar lift, your creative or professional work of the past six months may yield the results you've been hoping for—and then some!
Get ready for your victory lap. This could be something that wins you major recognition, perhaps from the acknowledged critics in your field or even the press. People might notice you when you're out and about, so no stepping out in sloppy track pants or a messy topknot!
Dress for the success you want to have, and make sure you always have a wallet-full of business cards and, if appropriate, photos of your work on your phone. Casual conversations could double as networking opportunities, so have your elevator pitch polished and ready to rattle off.
This is also a peak time romantically, whatever your relationship status. Single? Every time you walk out the door, you may have a fateful meeting. And when you're trying to meet people, a little sustained eye contact can become a personal introduction.
Couples can renew your passion, and, since the fifth house rules fertility, you might catch a case of baby fever. Just make sure you're really ready, because things could happen literally overnight!
Go-go-stop? You may be getting mixed messages on Tuesday, when the enthusiastic Sun in your eleventh house of teamwork and technology gets into it with restrictive Saturn in your security-minded second house.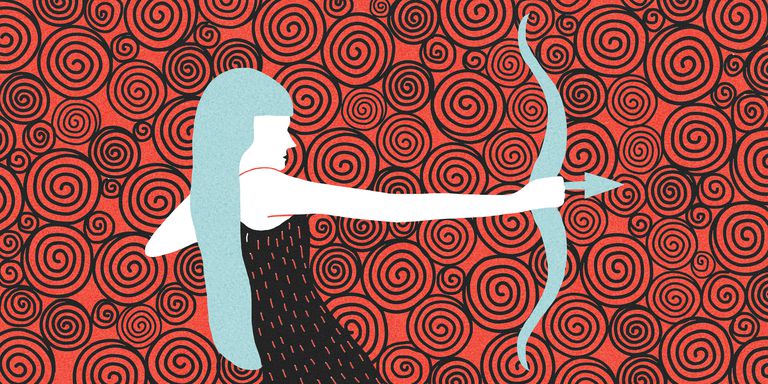 While part of you is eager to explore some new social groups (or throw your hat into the online dating ring), the side that's controlled by conservative Saturn is a bit more risk-averse.
Definitely think twice (if not three or four times) before crossing the proverbial line with a platonic friend. Things might feel "inevitable" today…but then there's tomorrow to deal with.
Under this cautious transit, don't let anyone talk you into lending money or co-signing a contract for them. Just as good fences make good neighbors, not letting financial issues muddy friendships should be your golden rule!
Finances may be very much on your mind when the weekend rolls around and you can finally breathe a sigh of relief.
After a frustrating five-month retrograde in your second house of work, money and security, transformational Pluto resumes forward motion and sweeps away some cobwebs that may have accumulated since last April.
But it's not like dollar bills are going to fall out of trees, Archer. You need to do your bit by evaluating your earnings and spending and maybe doing the unthinkable—putting yourself on a budget.
Sure, you may have to cut out a few indulgences, but to climb out of debt or save up for that dream winter vacay is going to take effort. You should have an easier time with a job search or in your hunt for more freelance clients. Review your pitching style and see if there's anything you can do to be even more appealing than you already are!