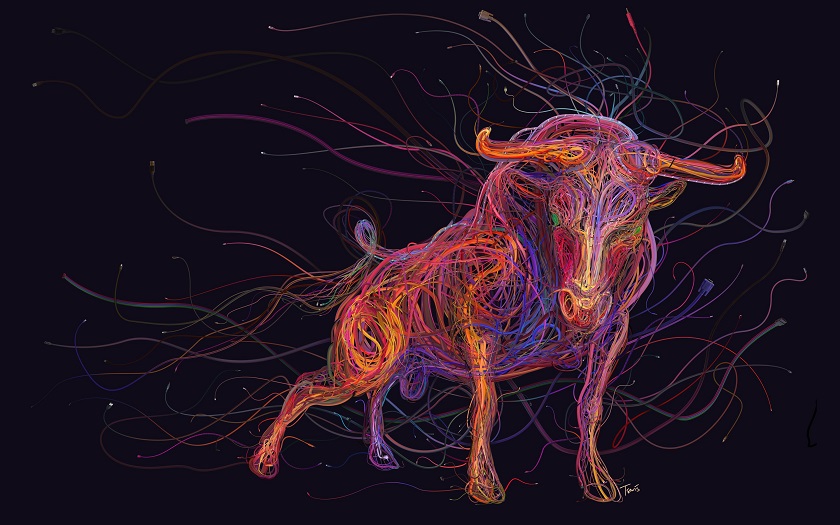 Temporary fixes to uneasy feelings can be tempting today, but won't remedy long-standing problems, dear Taurus.
A Venus-Jupiter aspect active today can push you to reach for more from your life and relationships, but you can't go into this blind and get satisfying results.
In fact, a Venus-Pluto aspect is also active and can help you derive more meaning and satisfaction from your life if you focus on your deeper ambitions and priorities or needs rather than chasing some elusive goal.
Until then, you may be swinging from feeling inflated to deflated at a moment's notice. For some of you, a conflict pits closeness, represented by Venus, against freedom, represented by Jupiter.
However, with opposition aspects, there is a compromise or middle ground to work towards, even if it's not initially apparent, and an opportunity to reach a satisfying conclusion is there for the taking.
Although you may head back to work today, you're still a happy camper because you're emotionally satisfied.
Your dreams are yours alone, regularly informed by your thoughts and the material world around you. But your intuition warns you that taking on less will prevent you from going astray now.
Thankfully, you can perform your job better than anyone as long as you avoid the trap of overextending your energy. Establish a realistic set of goals and get busy.
Having the Moon in Taurus today is a mixed blessing. On one hand, the Moon's only visit while Venus is here and last before the Sun returns later in the week is a chance to listen to your heart's emotional responses and read between the lines.
On the other hand this comes just as Venus is in opposition with Jupiter, with the Moon's emotional responses exacerbating any personal and/or relationship tension this might create.
Yet with the planets of love and luck involved, this is simply highlighting any balance issues between your personal and relationship needs.
Buddhist teacher Tenzin Palmo wrote, "Keep your practice very simple and don't be too ambitious."
Creativity: Excellent
Love: Excellent
Business: Fair
Lucky Numbers: 8, 26, 29, 40, 43, 48
Daily Compatibility: Virgo