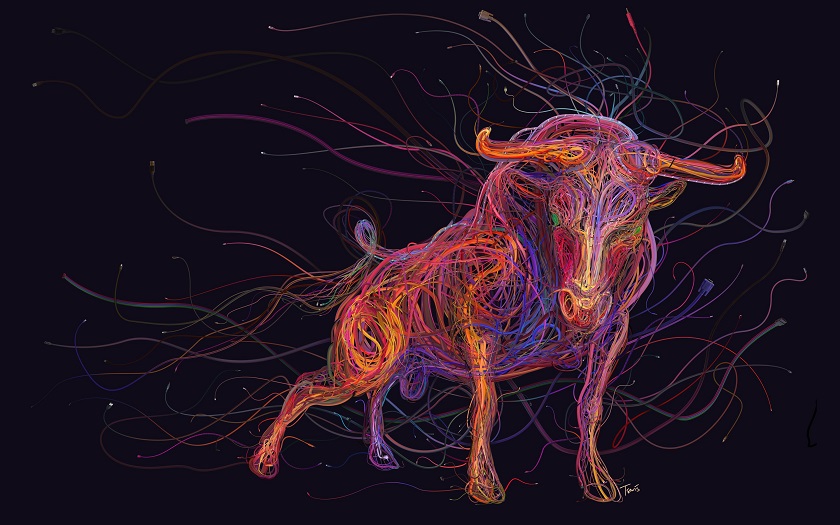 There is subtle but useful energy for relationships today, dear Taurus, as the Moon spends the day in your partnership sector and harmonizes with both the Sun and Neptune in your friendship house.
You could feel a sweet, gentle connection with a friend or partner, and you may be spending a little more time than usual balancing your agendas and harmonizing with others, which is time well spent.
Your social life can improve, or your interests can grow. Mercury and Venus move into your privacy sector today, however, and this is a shift towards more introspection in your life, in general.
You're likely to experience an increased need for time to yourself or spent away from the standard routine, mainly for healing, rest, attention to mental health, personal reflection, and/or focus on background matters in your life. Mercury will spend a longer time in this sector of your chart than usual (until May 13th).
It's a good time for research, quiet contemplation, and meditation, but watch for too much thought given to issues, situations, and people that/who have outgrown their worth or purpose in your life. This is an excellent time to examine the past with the goal of improving the present.
You can tell that something in your life is ready to unravel but you're not sure yet how the plot will unfold. There's no surprise in the looming change, for you have been methodically working toward this auspicious intersection for a while.
You aren't one to make dramatic modifications to your world unless there is ample reason and now there is. There's no need to waste energy wondering about what you might lose; instead, look ahead and concentrate on what there is to gain.
Today marks the start of a special journey that your heart will take over the coming weeks, which in turn is the precursor for a major personal awakening. It starts with Venus' return to a nostalgic part of your chart and a chance to take your heart on a nostalgic trip down memory lane over the next 24 days.
It is Venus' return to Taurus at the end of the month that will open the door to the kind of major new beginnings not seen before. It starts today with a chance to revisit the past and begin the process of releasing it.
Computer scientist Alan Kay said, "The best way to predict the future is to invent it."
Creativity: Good
Love: Good
Business: Good
Lucky Numbers: 7, 12, 15, 18, 35, 47
Daily Compatibility: Capricorn