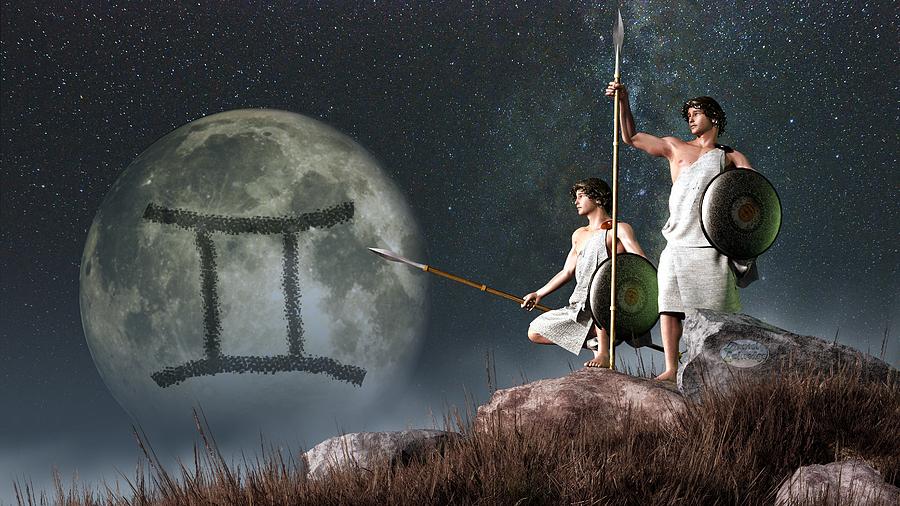 Love is in the air this month—but before you fill your lungs with it, you might want to check the smog index. Some parts of this month's cosmic climate are ripe for passion while others seem destined for drama unless you keep your wits about you.
As with many of the months in 2018, this one is #complicated. But it will certainly hit its fair share of high notes, fear not!
On the shiny-happy side of things, the Sun is making its annual visit to Libra and your pleasure-seeking, playful fifth house until October 23. A touch of "fall fever" could overtake you as el Sol gives the frisky side of your Gemini nature cosmic permission to roam free.
The leaves won't be the only things putting their fiery colors on display! During these glamorous and giddy three weeks, you'll be the life of every party as you hold court and build your fanbase. This is also a richly creative time, with the Sun warming up this expressive zone of your chart.
Give your talents and artistic abilities some extra love. You never know where they could lead! But really, that's not the point. When the Sun is in this be-here-now zone, your best bet is to immerse yourself fully in the moment…your most direct path to joy.
On October 8, the year's only Libra new moon sets off a fresh six-month cycle that reminds you to get out of your head (the Gemini "safe zone") and drop down into your heart a little more. Let your ticker set the GPS more often and see what happens. Think: less control, more "carpe diem."
You might not keep a tight grip on your emotions, but your life will feel richer and more alive. And isn't that what it's about? Since the fifth house rules fertility, there could be baby news in the coming six months—or just a super-strong urge to leave your stamp on everything.
But oops—we're gonna contradict ourselves a little now. As much as the mojo and joie de vivre are flowing, there will be an obstacle to navigate for nearly the whole month. Starting October 5, Venus, the planet of love, beauty and interpersonal harmony, will be retrograde from October 5 to November 16.
Venus, which has a retrograde spell every 18 months, is responsible for keeping humanity, graciousness and caring toward one another and for promoting peace in all forms of relationships. When she takes her six-week sabbatical, it's harder to dredge up kindness and compassion.
The headlines are usually splashed with "Shocking Celebrity Splits!" and you might even reach the brink of your own (less-famous) meltdown if you don't step back and take a deep breath.
This year, Venus will reverse through Scorpio and your sixth house of organization until October 31. Then it will back into Libra from October 31 to November 16, sending ripples of discord through your fifth house of romance and emotional reactions. Your caustic, critical side could go into overdrive, and the Gemini verbal daggers could start flying around like drones on Prime Day.
While you won't feel the Venusian mayhem as intensely in your love life until November (whew!), Venus' reversal through your nitpicking sixth house can bring up anything from body issues to rampant flaw-finding in a partner to an overall feeling of burnout from a lack of self-nurturing.
Stress can show up visibly while beautifier Venus is retrograde, so look in the mirror—literally—for signs that you need to slow down.
Force yourself to book those workouts, massages, blowouts or whatever your favorite self-care regimen may be, no matter how busy you are. Once people start regularly asking, "Are you tired?" it's time get thee to the studio or salon…or even better, out in nature.
The gift of any retrograde is that it turns our attention to the past, which, while painful at moments, must be addressed in order for us to grow and move forward in our friendships, family ties and relationships. If Venus triggers you more than usual, it's only unmasking areas where you need to find new strategies, ask for help or handle some old baggage.
Luckily, you'll get some solar support from the Sun, which joins Venus in Scorpio when it begins a monthlong sojourn through your orderly, wellness-minded sixth house on October 23. This sector rules helpful people and employees, and with Venus retrograde, your squad might be a little grouchy or snarky.
Instead of letting tension build, see if they're feeling unappreciated or overworked. Treat them to something indulgent to show your gratitude and bring back the bonding.
But don't skirt the issue: Make sure everyone gets a chance to express their needs so you can find a happy medium. If you're feeling burnt out from doing everything yourself, this Venus retrograde could sound the call: Can a Gemini get a little help around here?
A huge moment of release arrives on October 24, when the annual Taurus full moon floods into your twelfth house of healing and closure.
Is it time to let something go already, Gemini? If you're hanging on to a person, situation or behavior that just isn't giving you joy anymore, it's time to radically redirect those tides. And since this full moon will be conjunct to revolutionary Uranus, you could make a swift and sudden break.
You might literally walk away, sure, but leaving isn't always the answer. As the saying goes, "wherever you go, there you are." Maybe a better focus would be to try to transform the situation by NOT trying to control, micromanage or save it.
This full moon could be a powerful portal for a spiritual message—don't dismiss any strong intuitive flashes or inner guidance! An escape, preferably near water, could reset you. And more than anything, this full moon is about learning to receive. Lean on your tried-and-true support systems or seek new ones, such as a therapist or healer.
Halloween could be a fun and social celebration under a Leo moon, which casts its beams into your third house of friends and neighbors. But careful: With a square to the Sun in your managerial sixth house, you could feel burdened with taking care of all the plans and arrangements.
That day, Venus will also form a stressful opposition to Uranus, making you susceptible to sacrificing too much and even picking up a cold or virus from a stress-based immune-system breakdown.
Take care of your wellbeing first and foremost, and don't just go along with friends' or a partner's plans to keep the peace. The resentment alone is enough to leave you vulnerable to sickness, and that's the last thing you need right now!
/Based On Materials From TheAstroTwins