Forget waiting for Valentine's Day, Libra. Cupid's already at your doorstep from the moment this month begins. Not only is the Sun in Aquarius and your romantic, expressive fifth house until February 18, but lusty Mars is heating up your committed relationship sectors. Whether you're coupled or single, you'll feel the heat throughout February.
If the temperatures don't rise, you're probably not paying attention—to the hovering admirers and, more importantly, to your own radar for pleasure. Use this cycle to reconnect to your inner glamazon.
Take tidying-up expert (and fellow Libra) Marie Kondo's philosophy beyond your possessions. What truly "sparks joy" in your life? Now, how can you do more of it? Start by decluttering your schedule of obligations that don't leave your heart bursting with happiness.
Unless you absolutely have to do this to make a living or support your loved ones, why ARE you spending time on it?
An early V-Day may already be in order on February 4, when the year's only Aquarius new moon spices up your passionate fifth house. Someone you meet near this date could turn into a major love interest in the coming six months. (The next two weeks will tell!)
Single Libras, if you haven't made any love resolutions for 2019, set your intentions today. The universe is especially interested in your desires and hopes at a new moon.
Got a talent to share with the world? The fifth house rules fame and creativity. Now's your chance to intentionally devote yourself to joyful new pursuits—or to resume ones you've put on the back-burner.
Even if you don't consider yourself an "artist," there's no better way to balance your Libra scales than adding beauty to the world. Dance, music, decorating, wardrobe styling…choose an outlet and get in the zone.
You'll have extra support for the next 12 months because on February 5, the Chinese Lunar New Year arrives, welcoming the decadent Earth Pig. This Chinese zodiac sign is all about sharing pleasure with people you love.
And since the Pig is one of the most communal animals, the more is the merrier. That's pretty much how your social sign likes to roll! But if you've been a wee bit snobbish about the company you keep, inclusivity will become your new M.O. Bid adieu to the discerning Earth Dog (which happens to be associated with the Western sign of Libra). In the Pig Year, you'll thrive by welcoming more diverse friends into your circle. You want a crew, not a clique!
Prepare to be pushed out of your comfort zone with serious relationships too, Libra. Since January 1, intensifier Mars has been in your opposite sign of Aries, ratcheting up the action in your partnership house.
Restless Mars can add motivation AND stress in equal doses. If you've been short-tempered with bae or your BFFs, try a new tack. Instead of snapping when they don't read your mind, look at where you can be more direct from the get-go. Assertive Mars gives you the courage to ask for what you need—clearly and without apology. Try it!
While Mars is here until February 14, you could field some exciting work offers. Contracts and negotiations heat up, and it's a great time to make a bold ask or raise your rates.
Confident Mars makes you a great "closer," and you could land a secure, ongoing revenue source. Just make sure you know what you're really getting into before you sign your life away, Libra.
Under impatient Mars' influence, you might feel some pressure to commit or rushed to make things official. Or, in an unusual turn of events, YOU could be the one who's in a hurry to lock things down. While you don't have to say "yes" too soon, you don't want to miss an amazing opportunity by vacillating either.
On February 13, you might just leap in and figure out the details later. Or, you could abruptly break ties. That day, Mars makes an impulsive conjunction (meetup) with unpredictable Uranus, which is also in Aries until March 6.
These planets will never connect here again in your lifetime, because in a couple weeks, Uranus will end its eight-year visit to Aries, not to return again until next century. No pressure or anything, but—it's time for some action!
Finally ready to get off the fence, Libra? Forget all those years of fantasizing about your perfect, Meghan Markle-esque wedding or waiting for some unrealistically perfect partner to show up.
You might just bolt to City Hall, or commit to a person you adore, even if they don't fit the glossed-up image in your head. (Real people seldom do.) Reached the end of your rope with a toxic person who's taken up way too much space in your life?
With these rash and freedom-loving planets united, you might suddenly exit a confining commitment, leaving heads spinning in your wake.
On Valentine's Day, the moon in Gemini and your adventurous ninth house stokes your urge for novelty. With Cupid's arrows pointed toward your travel zone, you might be tempted to book a last-minute getaway.
But with the moon receiving an opposing beam from Jupiter in your local events zone AND forming a T-square to confusing Neptune, you could get easily overwhelmed. Everyone's got an opinion on what to do and where to go, and before you know it, you could be bickering instead of celebrating.
Keep the plans simple. Longing for a romantic getaway? Think "staycation" instead of "standby flight."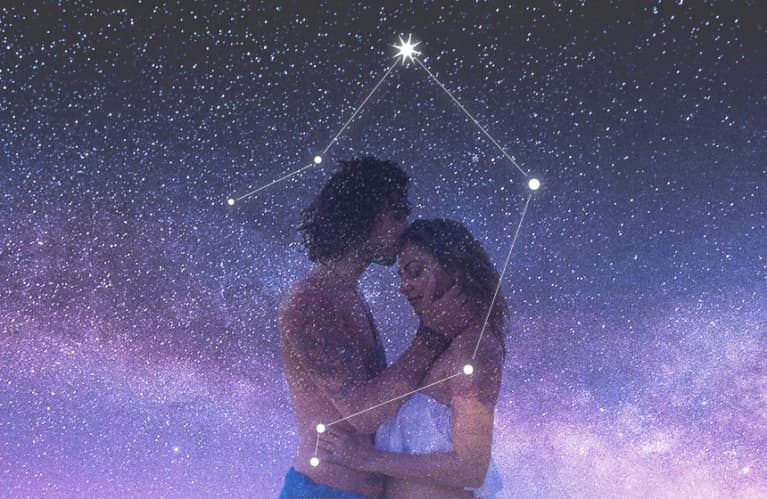 If you thought Mars in Aries was intense, you ain't seen nothing yet. From February 14 to March 31, the red planet plunges into Taurus and your eighth house of intimacy, merging and permanent bonds.
This is where the rubber meets the road in your relationships, and you enter the point of no return. Emotions run deep, and you could feel a wide swath of them, from insatiable attraction to seething jealousy to fierce anger. (So much for being the composed, balanced Libra!)
You may need a few deep breaths, some outlets and possible an objective person to help you process what's churned up. But hey, at least you're actually in touch with those raw feelings that you tend to suppress. Virile Mars could bring a pregnancy or a sizzling sexual attraction that's too hot to resist.
Mars in your eighth house of big money and shared resources will heat up financial affairs. You could score a windfall but you might also feel the stress of a large expense. Courageous Mars could bring some exciting joint venture opportunities, especially ones related to real estate, investments and passive income.
Mars only comes here every two years, and he demands that you step up instead of sticking your head in the sand. Don't let debt or what seems like an insurmountable barrier stop you, Libra. By the end of March, you could completely transform an obstacle and set yourself up for long-term fiscal fitness.
On February 18, "wounded healer" Chiron will move into Aries, staying until April 2027. Chiron made a brief pit stop here from April to September 2018, then receded back into Pisces.
While Chiron is in Aries, we'll collectively mend old scars around visibility, self-esteem and identity. According to mythology, Chiron was a healer who couldn't heal himself. Under his influence, we transform by helping others overcome struggles that we've dealt with (and may still be muddling through). It's the ultimate act of service, where the giver ends up receiving an unexpected karmic gift.
With Chiron in your opposite sign, your relationships will be fertile ground for healing. What lessons have you learned from the ups and downs of human interaction?
Whether in romance, friendship or business, your partnership-driven sign needs people like the rest of us need oxygen. Sharing your wisdom from the trenches could become a surprising new outlet. Chiron will also give your approach to relationships a major makeover.
Unrealistic expectations, passive-aggressive grudges, conflict avoidance…any of those toxic habits will no longer carry your commitments for the long haul. Swapping in more sustainable practices, like clear agreements and direct communication, will make a world of difference.
These themes won't be entirely new, because radical Uranus has been in Aries since 2011, shaking up the status quo in this zone of your chart for years. On March 6, Uranus will permanently exit, passing the transformational baton to Chiron for the next nine years.
That same day (February 18), the Sun marches into Pisces and your orderly, health-conscious sixth house. The next four weeks could provide the anchor you've been looking for if you take things one small bite at a time.
Simple daily practices will keep you sane. Treat regular exercise, proper dietary choices and self-care as non-negotiables, Libra, and nothing will seem insurmountable. With the Sun activating your helpful people sector, look to where you can delegate duties or bring in a specialist for support.
Speaking of closure, is there something you've held onto past its prime? Let it go instead of hanging on for dear life. On February 19, when the Virgo full moon—also a potent supermoon—activates your twelfth house of healing and release.
La luna could bring a huge intuitive download, or a nudge to get a spiritual practice going. Meditation, prayer, crystals…whatever speaks to you, open up to those divine downloads.
Your inner guidance system wants your attention. Tune in and see where it leads you. The unknown might seem scary, Libra, but what good is staying in your confining and painful "familiar zone"? Veer off the predictable path. The universe could offer a more inspiring option or two!