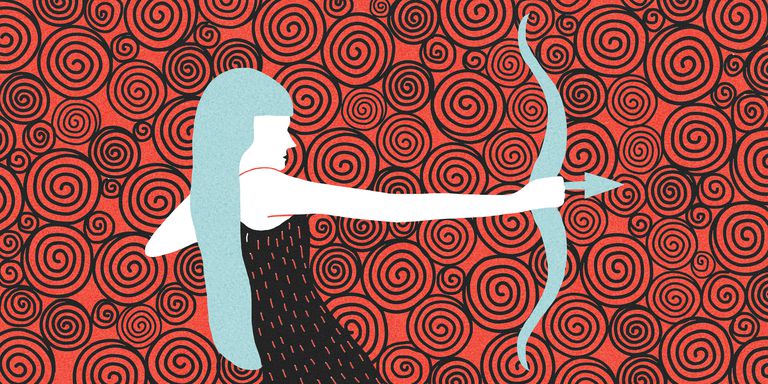 Jupiter in your private solar (until November) encourages you to spend more time with yourself and personal reflection this year, dear Sagittarius.
However, the current transits of the Sun and Mercury stimulate the need for companionship or someone else's perspective and input. There could be a sense that people are demanding too much from you or you can feel strongly divided between needing privacy and sharing with others today.
Look for a way to compromise for best results, as both needs are valid. With communications, there may be regrets or focus on uncomfortable topics, but ultimately clarity.
Also today, Venus opposes Pluto, and you'd be wise to watch for holding on too tightly to people, situations, and things, as this can prevent you from letting go and more fully enjoying sharing or intimacy with someone.
Identify areas where you may be acting compulsively or possessively, and aim to release some of the control.
An imbalance of power or a difference of values might create an unspoken awkwardness that demands resolution. Although you may willingly engage in a dialogue, you're aware it opens a door into an emotional realm you wish to ignore.
In the meantime, you're likely creating an escape route in your mind to use just in case the conversation goes too far for your taste. Unfortunately, taking the quick exit is not your best choice for personal growth or long-term happiness.
It was last week that Mercury and Mars linked arms, but they are still in an 'I'll scratch your back if you scratch mine' partnership.
As Mercury, planet of communication moves into his final week in your relationship sector he is working with Mars, as he moves into his final three weeks in direct motion in your communication sector.
Where Mars can push through communication barriers, Mercury is able to give the words themselves a voice, especially on the relationship front.
Persian poet Saadi of Shiraz wrote, "Have patience. All things are difficult before they become easy."
Lucky Numbers: 3, 6, 16, 17, 33, 42
Daily Compatibility: Aries
Creativity: Good
Love: Fair
Business: Fair