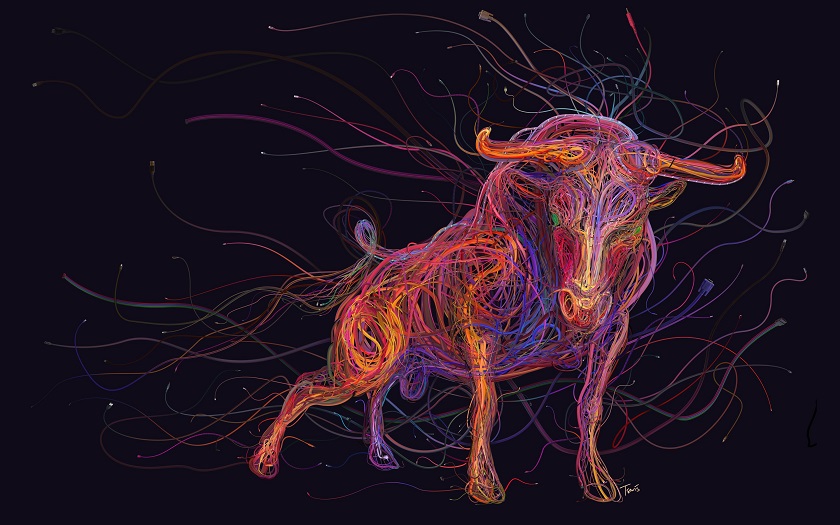 Venus moves into your intimacy sector for three and a half weeks, dear Taurus, and your feelings, pleasures, and cravings tend to run a little deeper than usual. This cycle favors working on the more complicated or intricate areas of relationships, sharing, and intimacy, as you are more able to approach tricky grey areas with grace, acceptance, and love.
Financially speaking, you may find backing or support now, and you are more reasonable with regards to working out agreements and power-sharing issues, although you may not be especially sure of money coming from other sources than your own income with the upcoming Mercury retrograde from the 3-22.
Today, there can be restless energy, however, with Uranus strong and challenging. You may need to break out of a relating rut or a particular routine that's not getting you the results you crave.
Taking small steps towards making constructive changes is your best bet right now. Not recognizing this need can lead to annoying disruptions or even a bit of immature behavior.
You're channeling your inner Bull today and feel like nothing will prevent you from reaching your goals. Unfortunately, a sudden change of circumstances can occur out of the blue, revealing how unprepared you are to reap the benefits of the seeds you have sown.
You may set yourself up for failure if you overreact and blindly push ahead, without regard to the new conditions. On the other hand, adopting a methodical approach might mean success is further off into the future.
Nevertheless, a carefully considered response increases the odds of achieving a personal victory. A flexible mind and a determined heart make a winning combination.
Martin Luther King Jr. said, "Take the first step in faith. You don't have to see the whole staircase, just take the first step."
At the same time that Jupiter is spending his first full day on his own in your relationship sector after Venus left yesterday, he is spending his first full day aligned with Neptune. This is a coming together of two of the giants of the solar system in an alliance that will dominate the rest of this year and the whole of next year.
This creates some phenomenal conditions for friendship and relationship building and with Venus out of the way, this is a chance to focus on the bigger picture.
Lucky Numbers: 26, 34, 37, 40, 41, 42
Daily Compatibility: Virgo
Creativity: Excellent
Love: Good
Business: Fair