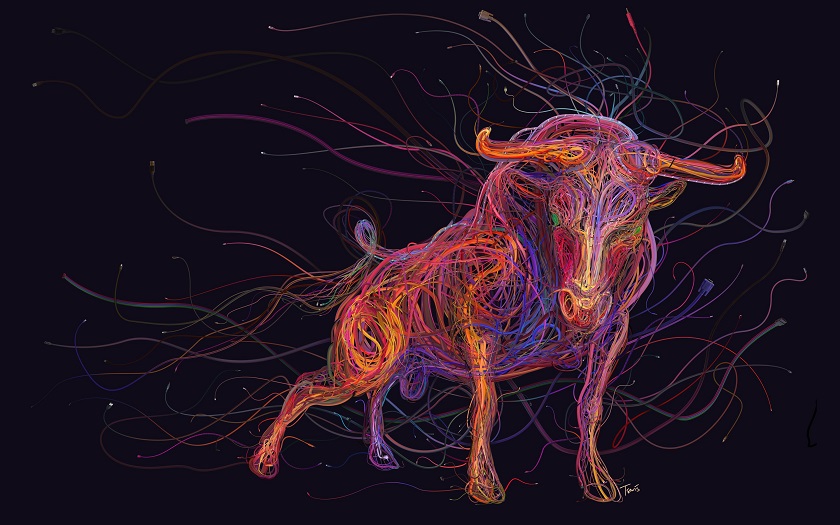 If you feel a compulsion to prove or defend yourself to people you shouldn't need to do either of these things with today, dear Taurus, try to resist. This can happen when Venus and Chiron form a square as they do midday, coloring the first half of the day.
Let your actions speak for themselves. There are times when you are projecting your own insecurities or lack of faith in yourself, and that's what others might be reading.
Moments of doubt can lead to better things, however, and a Venus-Uranus trine later today helps you detach just enough to let go of insecurities and more thoroughly enjoy yourself.
This can be a time of experimenting with different ways to relate, and learning something exciting and new in the process.
A sudden windfall may surprise you with unexpected money or love. However, you must be open to receiving the cosmic goodies or they could pass you by unnoticed.
Enjoy the fleeting pleasures as electric Uranus harmonizes with your key planet Venus, zapping your 8th House of Regeneration. Sharing your emotions can catalyze your revitalization.
An improvement in your finances elevates your spirit. But today's positive momentum won't likely last, so make the most of it while you have the chance.
Today's Quote: "Being rejected from something good just means you were being pointed toward something better."
While the Sun has been in your financial sector for the past four weeks, today is his first chance in over three years to look at money matters objectively and with no other filter.
Saturn's departure yesterday brought a three year financial boot camp to a close, with the Sun's last full day more about a chance to stay in the moment.
Where things stand right here and right now can be your new starting point.
Lucky Numbers: 2, 6, 16, 18, 34, 39
Daily Compatibility: Virgo
Creativity: Excellent
Love: Fair
Business: Good