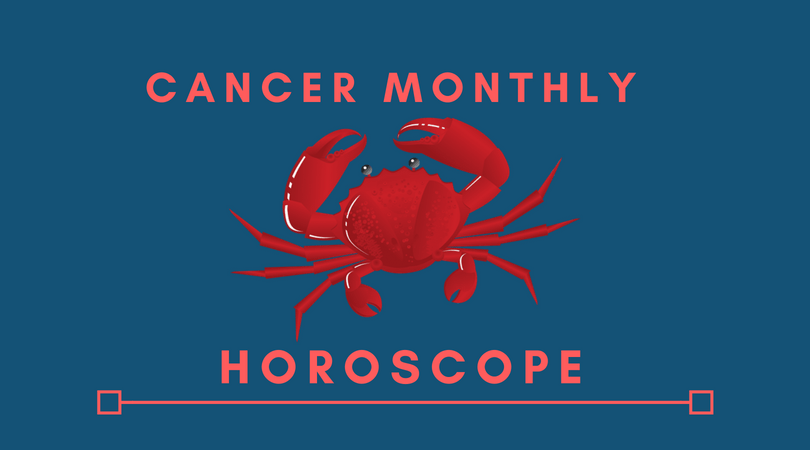 September gets off to a vibrant start with the Sun sailing through Virgo and your third house of communication and community until September 22. You're bubbling over with excitement, eager to catch up with friends and post recap photos from your summer adventures.
There's an extra blast of "back-to-school" energy because we're two months out from the July 12 Cancer solar eclipse, the lunar launch of a two-year transformation. Your personal identity and closest relationships are getting a makeover until July 2022. Where is the balance between "me" and "we" tipping too far in one direction? With September's social energy, realign the give-and-take with everyone—from friends to colleagues to romantic partners. If you're the classic caretaking Crab, break out of that confining shell and create more reciprocal dynamics with your network.
You'll get a burst of inspiration to do that on September 9, when the year's only Virgo new moon puts you in the path of kindred spirits, some of whom could become important players in your life. Conversations that start today could roll into something much bigger over the next six months. The third house rules local action, so events close to home could turn up an exciting new connection or project. Writing, teaching and media ventures get an extra boost.
This new moon will also form a harmonious trine to alchemical Pluto in your seventh house of partnerships. Don't be surprised if a casual conversation quickly moves into "power couple" territory, where things become suddenly serious between you. A friend might begin to look like a promising romantic or business partner—or you could get palpable vibes that someone's looking at you in more than just a friendly way. That could feel exciting OR a bit unnerving. Try to read people's body language and unspoken cues because those will be "talking" as loudly as their words.
This new moon will also be opposite nebulous Neptune in your ninth house of risk-taking, which could tempt you to dive into a situation purely on impulse. Careful: Because possessive Pluto plays for keeps, anything you get involved in near this date, even if it starts out casual, won't be easy to disentangle from. Simply uttering an enthusiastic "yes!" to a plan that sounds exciting could give people expectations you're not prepared to fulfill. Be crystal-clear to avoid any guilt trips or emotional blackmail down the line.
Luckily, September will bring some retrograde relief after a summer that had five or six planets in these powered-down positions in June, July and August. Whew! Retrogrades turn our attention to the past, forcing us to deal with unfinished business before charging ahead. As September begins, there are still four lopsided luminaries, but Saturn and Pluto will correct course, ending this month with only two. Stalled plans should start to move ahead.
Both structured Saturn and shadowy Pluto have been retrograde since April in Capricorn and your seventh house of partnerships. Your mettle may have been seriously tested with your closest people, whether an S.O., a BFF or a close colleague. Saturn, the planet of boundaries and structure, has been forcing you to adopt a sense of authority and stay true to your word with people—not always easy for a softhearted soul like you! You've learned the meaning of "I'd rather be respected than liked" over the past five months, and to your surprise, you might actually resonate with that saying. With powerful Pluto also in reverse, there was a lot of inner work to do. Pluto, ruler of the unconscious, pulled back the curtain to reveal how YOU project your issues onto others, shifting blame and responsibility. Is it them…or is it you? Well, probably a bit of both. Hopefully learned that those triggering types are mirrors (or windows) into your own unresolved issues.
Now that Saturn goes direct (forward) on September 6 and Pluto on September 30, you can decide which direction to take in these relationships. Should you keep working on things, or go your separate ways? Whatever you decide, you'll start implementing (and sticking to!) healthy boundaries with the closest people in your life. Spoiler alert: This is gonna be a BIG issue next year, so you're just warming up. While it may cause a flurry of unrest at first, everyone will ultimately be happier when you're not shortchanging your own needs and then boiling over with white-hot resentment.
With energizing Mars also in Capricorn until September 10, you're fired up to get these interpersonal dynamics sorted out. And when Mars moves into Aquarius and heats up your intimate eighth house from September 10 to November 15, it will be impossible to suppress how you really feel with your intimate companions. A direct conversation might be unavoidable, especially on September 18, when Mars locks into its third and final square with shock jock Uranus in Taurus and your eleventh house of groups and friends.
The first of these clashes fell on May 16, right as unpredictable Uranus entered Taurus for the first time since 1942, immediately locking into this harsh aspect with hotheaded Mars. Both of these combustible planets are known for reacting first and asking questions later, and their face-offs can bring a brewing conflict out into the open. An acquaintance might open your eyes to all the ways you've been letting people treat you like a doormat—and this could bring you to a boiling point. Jealousy and secrets could make life feel like a bad reality show if you let it. Tension around sex, money or pent-up emotions can lead to a meltdown. Whatever the so-called source of contention, these reckless planets have you primed to pop OFF on anyone and everyone around you…and the results won't be pretty. If possible, see if you can unpack this with a therapist or trusted confidante before you take to the interwebs or create a firestorm of gossip.
Calmer days arrive on September 22, when the Sun burrows into Libra and your domestic fourth house (Cancer's native soil) for a month. Nest, rest and putter around the house—or fling open your doors for a cozy dinner party/movie night with a carefully curated guest list. Family takes top billing now, so make time to catch up with loved ones. If you're looking to move or redecorate, Libra season is a great time to peruse the real estate listings or start pinning interiors onto a mood board!
But kick off the fuzzy slippers on September 24, when the year's only Aries full moon brightens your tenth house of career and success. Something you've been working on for the past six months could reach a peak moment or turning point. If you've been waiting for word on a business proposal or job offer, you could finally hear news. Wondering whether you should pursue a promotion or step into a leadership role? These clarifying moonbeams will help you see which route to take. Your father or another important man could play into events. Not sure which direction to go professionally? Look into mentorship and formal development programs, and find ways to interact with industry VIPs who can open doors or give you stellar advice on your next moves. /by TheAstroTwins