Keep the searchlight on, Cancer. This week could illuminate your other half, for business, pleasure or a mind-blowing creative collaboration.
With the Sun simmering in Capricorn and your partnership zone since December 21, two has likely been your favorite number. Keep working the tag teams this week, but cleave to the rule of "opposites attract."
You'd do well to pair up with someone who's more of a complementary force than a clone, especially if, say, they love a spreadsheet while you prefer a vision board (or vice versa). If you're in a relationship, make a point of carving out some couple time before Sunday—and get out of the house!
Is there a concert or play you'd love to see? Friends you keep wanting to meet for dinner? Whether single or spoken for, get out for some arts-based activity time. The garrulous side of your personality will come back to life when you're surrounded by the cultural cognoscenti—or at least, people who know how to plunge way deeper than superficial conversation.
At work, you may realize that it's time to draft some contracts and make some of your partnerships a bit more official. Hire a lawyer to help ensure that you cover all your bases.
While it's all love now, vague agreements can quickly go south. Formal as it may seem to send someone a PDF of legalese, frame it for what it is: An insurance clause of long-term affinity and understanding.
If you need a dose of structure and stability, Friday's semi-rare Venus-Mars trine could bring it. Security has never been "boring" for you, Cancer; in fact, it's kind of an aphrodisiac.
With the cosmic copilots dancing into a harmonious formation, you'll be a magnet for healthy relationships, as well as some wellness-boosting routines that fall into the self-care category.
Book your first massage of 2019 or ask friends to recommend their favorite healers, from shamans to acupuncturists to general practitioners if you're in need of an annual checkup. Have your BFFs been raving nonstop about a yoga studio or spin class with an insane playlist?
Tag along, and if you love it, consider signing up for a membership. Single Crabs could fall head over stacked heels for the traditional type near Friday—someone who would surely get the approval stamp from your family and inner circle friends.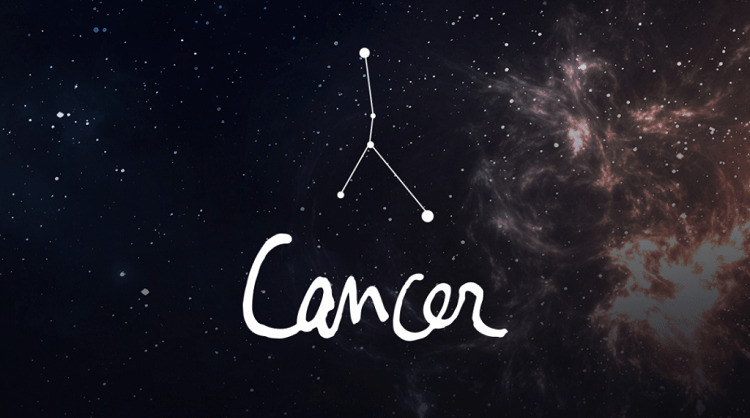 The Venus-Mars trine could also prompt you to polish up your dating profiles or try a new app. Coupled? If you've fallen into caretaker/coach mode with bae, turn that TLC inward and give yourself that nurturing. Everyone will benefit from this, even if it feels a little scary to step back and release control.
On Sunday the 20th, get ready for a spring fever preview. As the Sun slinks into Aquarius and your erotic eighth house until February 18, you'll start to feel like a total vixen. But during this private solar cycle, you'll also crave intimacy and security.
You might even write up a wish list of what you'd like to manifest both romantically and financially under the almost-full moon lunar eclipse that begins late on Sunday night! While it may seem like an elusive combo, lust and trust CAN coexist in one relationship, Cancer.
If you've been praying that a player would magically morph into a prince(ss), it's time to write The End on that waiting game. If said romantic royal doesn't step to your ultimatum, don't stress.
The vacancy will quickly fill with someone who is actually ready to gallop off into the sunset with you now—rather than some elusive day in the future. You might need to hit pause on the idea of being "just friends" with an unrequited crush or an ex—at least for a while.
A clean break heals the fastest. Relationships that are in a positive flow may get fast-tracked into deeper commitment over the coming month. If you're ready to put a ring on it—or some ink on a contract—get the talks underway.
This monthlong solar cycle could do wonders for your finances, bringing in big money opportunities through investments, royalties, or commissions. Got property to sell?
You may get a pretty penny for it before February 18. This is a time for sharing resources, pooling funds, even raising a round of capital to build your dreams.
Aquarius is the sign of teamwork and tech, and these sunbeams could get you thinking outside the box. Maybe it's time to patent or trademark an invention and to try crowdfunding cash for an initial phase of development.