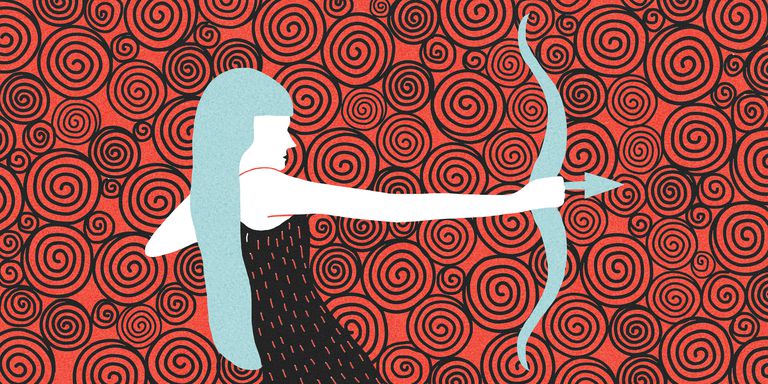 Restlessness experienced today may very well be, at the heart of it, a need for a change of pace, dear Sagittarius. The Moon spends the day in your resources sector, encouraging you to seek stability.
However, Uranus is strong and disruptive today, and one of its lessons is that if you stick too rigidly to a routine or plan, you may not learn a better method or something new and helpful!
Aim to adapt and to be flexible if there are changes of plans. Even so, your patience can be tested, as schedule problems and lack of organization can get in the way of your broader plans.
Resolve to take better care of details and to be more prepared going forward if this is the case.
If not, it may be that you need a little more excitement or more independence and freedom in your work, and you might decide now to look into ways to make this happen.
A brave new path is about to unfold. As current events serve to transform your long-held beliefs, a yearning for more variety in your daily routine surges forth.
Harness this new frontier by being proactive about authoring your life. Search your mind for clever ideas that will enhance your quality of work.
Take initiative in doing something that's never been done before. Change yourself, change the world.
Mercury turns retrograde three times a year and as the planet that rules communication and all things intellectual and technical, this can create the potential for mixed messages, misunderstandings and mistakes.
Yet if you're going to have Mercury turn retrograde, then here in your sector of adventure, travel, learning and discovery is the place to have it happen.
This is literally a chance to take a trip down memory lane. Yet if you are travelling, allow for extra time commuting and assume you'll forget something, so double check everything.
Today's Quote: "Go after your dream, no matter how unattainable others think it is."
Lucky Numbers: 4, 6, 8, 9, 30, 47
Daily Compatibility: Libra
Creativity: Good
Love: Good
Business: Fair