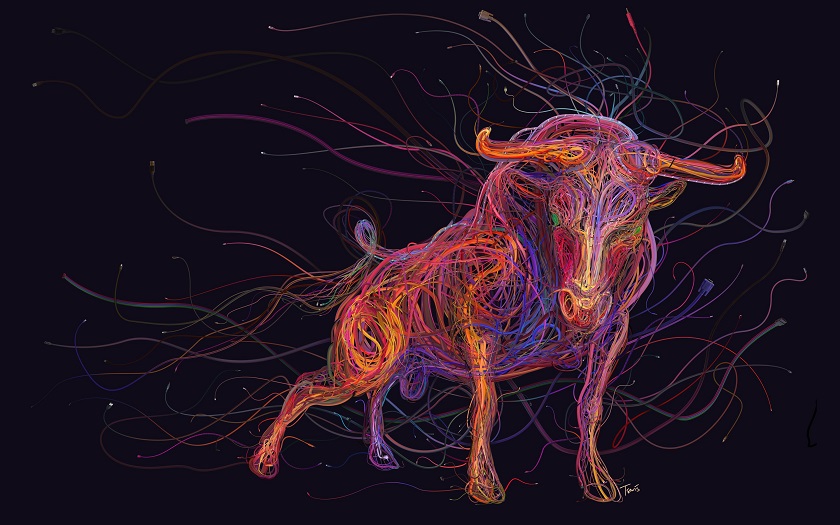 The Moon enters the sign opposite yours this morning, dear Taurus, and aligns with Mars there. This adds impulse and energy to your relationships, and you may want to be active with someone or resolve a relationship problem.
Finding a balance can't be forced, but you can certainly aspire towards it. Showing your gratefulness for the people in your life is favored strongly now, and can significantly improve your relationships.
This is not the time to go it alone for most of you. However, for some of you, this energy can play out such that you find your motivation through someone else who inspires and encourages you to pursue your desires now. You might also enjoy going the extra mile to help someone out.
You wish that everyone would just speak the truth without beating around the bush, but complex interpersonal politics make real communication unlikely now. You're particularly sensitive to the feelings of those around you today.
In fact, you can derive just as much meaning from what they don't say as from what they tell you. But you're not interested in extracting the hidden message one question at a time.
Ironically, taking a few steps back gives the other person enough room to come out of their shell without feeling threatened.
Confucius wrote, "When anger rises, think of the consequences."
There is no doubt that having Saturn in your financial sector for the last three years has not been easy, for the hard taskmaster of the cosmos is here to help us learn and grow.
Yet as a three-year financial boot camp draws to a close, you're starting to realize that you do have the power to move mountains if you have to.
Yet more importantly, you have the financial savvy and hindsight to know which battles to fight, when, where and how.
Creativity: Good
Love: Good
Business: Excellent
Lucky Numbers: 4, 6, 12, 14, 22, 35
Daily Compatibility: Capricorn