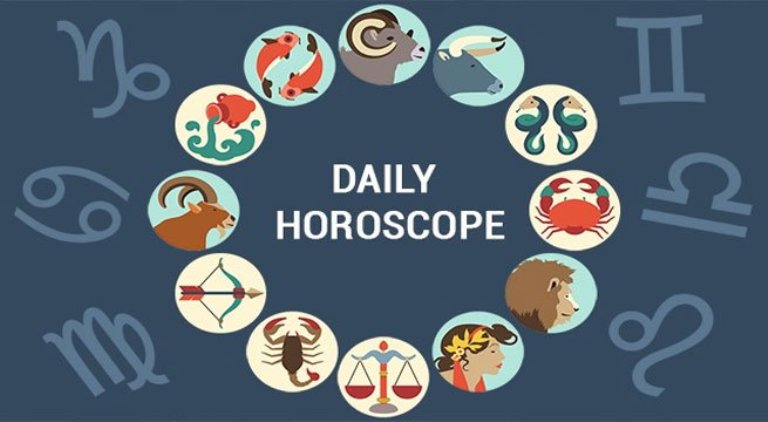 Aries Daily Horoscope Sunday – Apr 02, 2017
Issues of self-doubt step out of the shadows if you run into an obstacle that stops you in your tracks today. However, a current delay gives you time to reexamine your methods and make necessary modifications. Although you might not want to focus on the details, the cosmos is offering you a chance to improve your game. Remain open to the feedback you receive from the complex circumstances you face now, but don't change your long-term goals just because the going gets tough. Arianna Huffington said, "Failure isn't the opposite of success; it's part of success."
Taurus Daily Horoscope Sunday – Apr 02, 2017
Sometimes your commitment to fulfilling your obligations is readily apparent by watching you at work. Your one-track mind is a wonder to behold; distractions don't seem to affect your determination. However, people might mistakenly think you are being lazy today, when in fact you are regrouping and preparing for your next round of observable progress. Joyce Meyer teaches, "Patience is not simply the ability to wait; it's how we behave while we're waiting."
Gemini Daily Horoscope Sunday – Apr 02, 2017
Although you're a natural when it comes to keeping busy, sometimes it's necessary to step back from all the hustle and bustle in order to gain a new perspective on your life. Sadly, good intentions aren't enough to keep you in motion today; you might feel as if you are hitting a wall and no amount of extra effort will make a difference. Shifting into a contemplative mode now is not a sign of defeat, but rather one of intelligence. Apoorve Dubey wrote, "Silence is the music of wisdom."
Cancer Daily Horoscope Sunday – Apr 02, 2017
You might have plans for a peaceful day of rest and relaxation, but pressing circumstances require you to assume responsibility rather than avoid it. Thankfully, you're capable of evaluating the current dynamics and taking necessary action before things grow out of hand. If you fall into the trap of silence when there's something to be said or done today, it will be more difficult later on to get what you want. Elton John said, "Live for each second without hesitation."
Leo Daily Horoscope Sunday – Apr 02, 2017
You may be licking your emotional wounds today as you replay recent social events in your mind's eye. Thankfully, pulling back into your private space enables you to see things from a different angle, shifting your role from that of a victim in someone else's drama into the star of your own show. Seeking refuge while the Moon visits your 12th House of Inner Peace is a perfect way to feed your spirit and cultivate your resiliency. Marcus Aurelius wrote, "Nowhere can man find a quieter or more untroubled retreat than in his own soul."
Virgo Daily Horoscope Sunday – Apr 02, 2017
Being a cog in a larger set of gear works might upset someone who is insecure and needs individual acknowledgment. However, you're happy to see the spotlight shining on others as long as you feel as if you're contributing to the greater whole. But finding satisfaction in the accomplishments of a group won't be enough to satisfy your long-term ambitions. Luckily, this is a win-win situation if you're willing to play both ends of the spectrum. Bask in your anonymity now while you plot a path toward personal success.
Libra Daily Horoscope Sunday – Apr 02, 2017
Thinking about your place in the outer world is more of a mental exercise today than a practical one. Although you don't need to take direct action yet, having additional time before committing to a final decision makes it easier to consider all your options carefully now. In fact, you're not even required to share your process while you fantasize about your future. Luxuriate in the freedom of stretching your imagination. Creating the world you want starts in your mind.
Scorpio Daily Horoscope Sunday – Apr 02, 2017
You're tired of being the responsible one, especially if you must demonstrate your commitment to pragmatism one more time today. Although this may not be your regular modus operandi, current circumstances are requiring you to keep your feet on solid ground. Nevertheless, nothing can prevent you from exploring your fantasies as long as you maintain outer appearances. Thankfully, living in two worlds seems natural now, enabling you to nourish your dreams while also fulfilling your mundane obligations.
Sagittarius Daily Horoscope Sunday – Apr 02, 2017
Although you may swing into action early in the day with high hopes of tying up loose ends around the house, you might lose momentum once you encounter an unexpected obstacle. It's not that you're unable to overcome a problem or two; it's just that you aren't interested in working so hard today. Fortunately, you can get away with some well-deserved relaxation while the reflective Cancer Moon moves through your 8th House of Regeneration. Remember, honoring the ebbs and flows of your energy cycles vastly improves your chances of success.
Capricorn Daily Horoscope Sunday – Apr 02, 2017
People in your immediate environment may be the cause of emotional conflict today, but you're not interested in feeding into any dramas. In fact, you're likely to withdraw if you encounter someone's dissatisfaction now, instead of facing the music and searching for a solution. Unfortunately, acting like an ostrich and burying your head in the sand will only prolong the tension. The sooner you address uncomfortable dynamics, the quicker you'll be able to enjoy the rest of your day. Meister Eckhart wrote, "The price of inaction is far greater than the cost of making a mistake."
Aquarius Daily Horoscope Sunday – Apr 02, 2017
You love the idea of running around today, whether you're doing chores or just amusing yourself with one distraction after another. However, you grow weary of staying in motion and long to find a comfortable place to rest after the self-protective Cancer Moon seeks solace in your 6th House of Logistics. Slowing down means that you won't be as productive, but it's a price you're willing to pay now. Instead of judging yourself by how far you still must go, celebrate how far you've already come.
Pisces Daily Horoscope Sunday – Apr 02, 2017
It's as if you are flying past a deadline today and you belatedly realize that you're far behind schedule. Oddly enough, you might be secretly relieved that you no longer need to pretend that you'll accomplish the impossible. But this is not about failure, for the extra time you gain now makes all the difference in the world. You are being granted a reprieve to create something special, rather than trying to slap together a finished product just to meet someone else's deadline. Coach Vince Lombardi said, "Perfection is not attainable, but if we chase perfection, we can catch excellence."