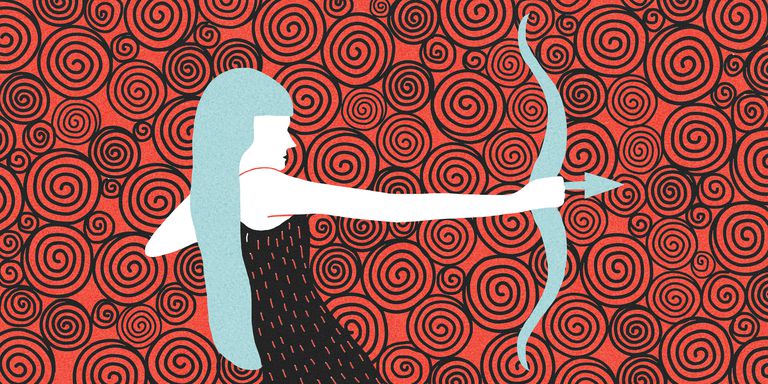 Today's energies are mixed, dear Sagittarius. On the one hand, a Venus-Chiron aspect encourages flowing feelings and an honest, upfront, and magical approach to love and creativity.
On the other, a Mercury-Saturn opposition also happens to occur today, and this can call your attention to a discrepancy, block, critique, or a negative answer or result.
This latter aspect most affects the areas of your solar chart related to money, ownership, and boundaries. Relationship and financial decisions may not come easily at the moment, and it may be better to conserve your energy than to argue a point or push an issue.
Work on strengthening your position. Even with Mercury's challenge today, you're in a good place to express your affections.
Acceptance and patience are vital ingredients for successful relationships now, and fortunately, quite easy to muster up. Sharing visions of the future or new ideas and activities can boost a relationship.
Although you may have some cleanup to do today if you went overboard in your pursuit of pleasure yesterday, you can still heal emotional wounds with compassionate action.
Nevertheless, the richness of your fantasy life inspires you to exaggerate without considering the consequences. However, an unforgiving Mercury-Saturn opposition won't allow you to stretch the truth or get away with sloppy thinking.
There is no escape; admit what you did wrong and try again with a renewed sense of commitment. Don't give up on the person you are becoming.
There is a special alignment between Venus and Chiron today, the planets of love and healing. This creates a healing atmosphere that has unusual implications for you.
The areas of your life this is most affecting is matters of the heart and also all things adventurous.
Venus, planet of love is able to help Chiron with his mission to heal your heart, while he's able to return the favour by releasing you from the things that keep you stuck in your comfort zone.
Today's Quote: "Strive not to be a success, but rather to be of value."
Lucky Numbers: 12, 20, 25, 28, 36, 49
Daily Compatibility: Aquarius
Creativity: Good
Love: Fair
Business: Good