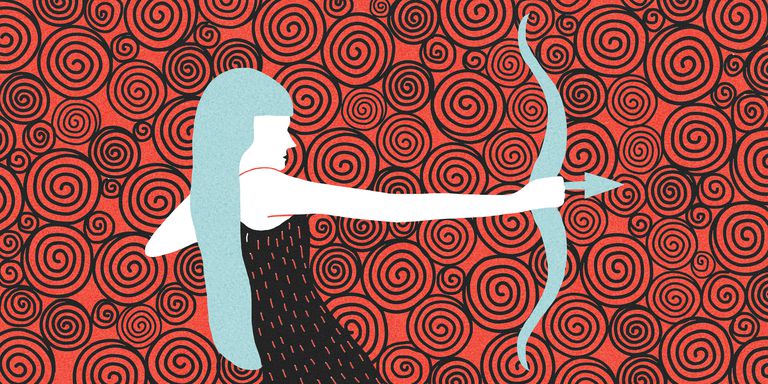 Early today, there is a tendency to allow fear of losing control or of being out of the loop to interfere with your enjoyment of the day, dear Sagittarius, particularly with your relationships.
Do your best to avoid becoming tense or all wound up about your practical affairs, a matter of ownership, or an issue of respect, although a Sun-Pluto aspect can seem to encourage you to worry about being on top of these things.
If you have the energy, time, and opportunity to make changes that improve your life, do so, but avoid worrying too hard about what you can't truly control.
The Moon's alignment with your ruler, Jupiter, in your privacy sector later today helps you recognize the need to let go and enjoy some quiet time or a break from material pursuits.
You may be checking off so many things on your to-do list today that you don't have time to stop and assess your recent accomplishments. In fact, you might be eager to shift your attention from your own goals to support someone else as they pursue theirs.
Nevertheless, the real action in your life is happening deep beneath the surface, preventing anyone from seeing your most significant progress.
Hidden results will begin to manifest in the days ahead. Be like the lotus: trust in the light, grow through the dirt and believe in new beginnings.
In the lead up to the Moon's return to Sagittarius tomorrow and the Full Moon this will recreate a day later, there is a need to keep your finger on the pulse and ear to the ground, but your mind and your options open.
As the Moon passed through a nostalgic and reflective part of your chart there is a chance to start paying more attention to your instincts and your inner voice. This is like tuning into a radio station as it gets ready to start broadcasting.
Today's Quote: "What defines us is how well we rise after falling."
Lucky Numbers: 12, 22, 25, 26, 28, 39
Daily Compatibility: Aries
Creativity: Good
Love: Good
Business: Good