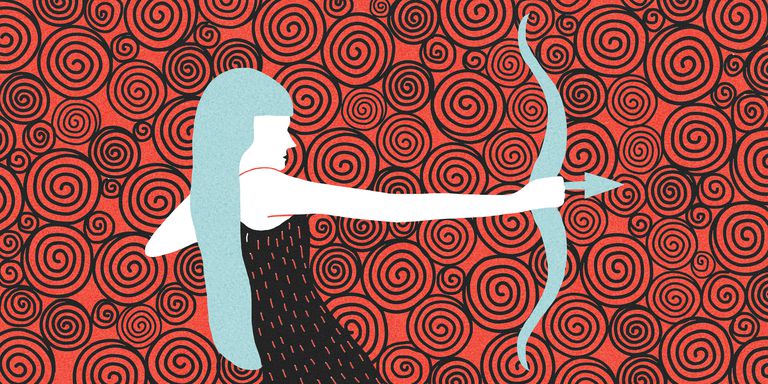 The Moon moves out of your performance sector and into your social zone today, dear Sagittarius, and you can experience a pleasant shift of focus from responsibilities to recreation.
It's a good time to consider your happiness goals and whether you're carving out enough time in your life to pursue them.
The Moon's grand trine with the Sun and Mars highlights and supports your relationships, in general, as well as your ability to connect well with others and communicate your intentions.
Again today, activities with others and collaborations work well. Also now, Jupiter and Neptune form the second of three trine aspects, and you may find more joy in being of service to others, enjoy heightened perceptions, develop your psychic abilities, and understand your family connections more intuitively.
You may be able to gain property or support from family, or you could secure a loan or mortgage that helps you to improve your home life. This is a fabulous period for building your faith and learning about your deeper needs.
People seem to be moving too fast today and you're not particularly interested in keeping up with the frenzied pace.
Nevertheless, you prefer to stay in close contact with others because you enjoy bouncing new ideas off your friends. However, you derive great benefit now from having a little less noise in your life.
Fortunately, you can easily plug back into your social network after you take your bearings and reestablish your center of gravity.
As she approaches an opposition with Saturn over the weekend, Venus is already working to turn any financial tension that might be building into motivation.
Venus returns to your financial sector once a year, but it has been three decades since she returned to find Saturn, in opposition in your income sector.
It is their opposition over the weekend that could create some financial tension. Yet as the planet of money, Venus is already working to turn this into motivation on both fronts.
Mort Walker wrote, "Laughter is the brush that sweeps away the cobwebs of your heart."
Lucky Numbers: 10, 20, 28, 29, 33, 36
Daily Compatibility: Libra
Creativity: Excellent
Love: Good
Business: Good