You're getting sleepy…very, sleepy. Your annual "timeout" begins this Tuesday, October 23, as the Sun dips into Scorpio and nests in your twelfth house of healing and transitions until November 21.
This four-week cycle leading up to Sagittarius season is always a bit of a fog for you. Before you plow ahead on (yet another) new initiative, tie up loose ends and take stock of what is already in your space.
Your indie-spirited sign likes to travel light, but over the past twelve months (and four years), it's possible that you've become weighted down with more possessions and obligations than you're naturally comfortable with.
Take stock: Could any of these things be released or perhaps sold at a profit? (Disclaimer: With Venus retrograde in Scorpio from October 5 to November 16, you don't want to be hasty, and, say, put a family heirloom up on eBay.)
What's needed, Archer, might be to clear your schedule of draining obligations and commitments that aren't taking you in a direction that feeds your soul.
With your ruler, Jupiter the journeyer, also in Scorpio until November 8, a restorative little getaway might bring you back to center. Could you spend a couple days at the beach, book a few spa treatments?
With the soulful trio of the Sun, Venus (retrograde) and Jupiter at work, this might be the week where you finally get back to your yoga practice or begin carving out a legit period of time each day to meditate.
The Law of Attraction is in strong effect with your subconscious twelfth house lit. Remember: Energy flows where your attention goes. Instead of dwelling on "failures" focus on the teachable moments they've brought you.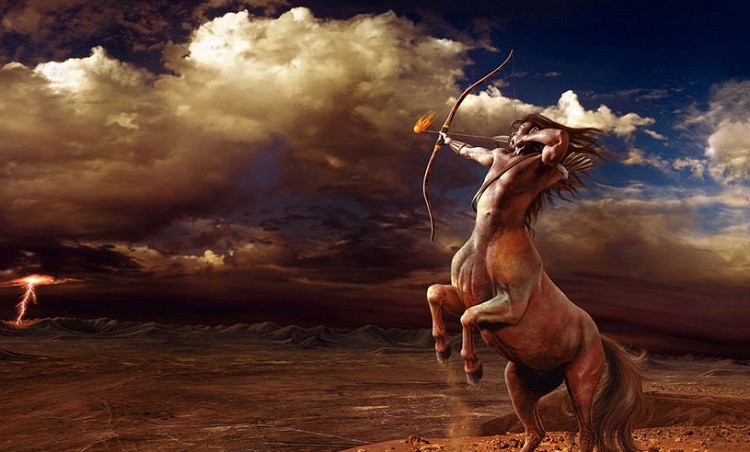 How have you grown stronger from the experience? What lessons can you take into the next stage of the game? Let go of grudges so your soul can fly free. Then, begin to visualize what you DO want in your life, and you'll quickly draw it towards you.
More stabilizing support arrives on Wednesday, when the year's only full moon in Taurus beams into your sixth house of work and wellness. With the busy fall many Archers have had, self-care may have fallen to the bottom of your priority list.
But since you can't pump a dry well, you need to rework your schedule to make room for activities that fill you up—emotionally, energetically and so on. This can be a Catch-22: The more you sit at your desk, the less energized you feel (and the more it feels like time is slipping away).
But Wednesday's moonbeams help you break out of that soul-zapping cycle and get the kinetic energy flowing.
Taking the first step is the hardest part, whether than means breaking a workaholic pattern you've fallen into (and sorry, walking from your computer to the coffee shop does not count as "cardio") or creating a new routine of keeping your gym bag packed and in your car every day.
The first workout is the hardest, but by the time you've broken a sweat you'll be kicking yourself for waiting this long to be active again! Since variety is the spice of a Sagittarian's life, find a gym that has a broad spectrum of classes so you don't get bored.
With temperatures cooling, start warming your body with roasted Brussels sprouts, butternut squash soup, or an iron-rich saute of dark leafy greens.
This lunation could bring a well-deserved payoff for your efforts of the past six months, perhaps in the form of an exclusive contract or a new job offer (or project) that can serve as a stepping stone towards a larger dream. Over the next two weeks, be sure to promote and circulate!
/Based On Materials From: TheAstroTwins